The Templars' Shops
The covered (indoor) markets of the old city consist of three parallel tunnels with lateral passageways connecting them. They date back to the reign of Queen Melisenda (1143-52), the widow of the Crusader King Fulk of Anjou, who had built them over the Cardo, the main street and marketplace of the city during the Roman-Byzantine period.
The central tunnel that was called Suk el- Attarin (the grocers' market) belonged to the Templar knights and to the Benedictine Sisters of St. Anne (their monastery was founded by Yvette, Queen Melisenda's sister).
How were rights of property indicated? Simply by inscribing a logo on the arches of each shop. It is thus possible, even today, to know which shop belonged to the Templar knights and which to the Benedictine Sisters.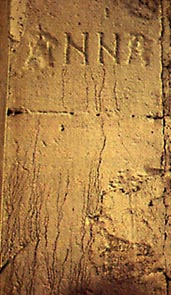 The sisters marked their shops this way

It is still possible to read more than ten inscriptions here today, but clothes and T-shirts hanging outside the shops often cover them. If you want to see them, go either early in the morning or late at night. You can find a complete and detailed list of inscriptions from the times of the Crusades in the massive work produced by the Franciscan Friar Sabino de Sandoli , who recorded every single written trace left by the Crusaders during their brief stay in Jerusalem (88 years). The book is called "Corpus inscriptionum crucesignatorum terrae sanctae" and is published by the Franciscan printing house in Jerusalem.