In 1227 Pope Gregory IX excommunicated the Emperor Frederick II because he had not taken part in the fifth Crusade. Nonetheless, the Emperor came to Jerusalem in 1229 on a peaceful and personal Crusade in order to come to terms with the Sultan. The two leaders signed an agreement by which Jerusalem, Bethlehem and Nazareth were to be kept by the Christians in exchange for their promise not to attack Egypt.

The agreement was to be kept for ten years, ten months and ten days. Frederick became King of Jerusalem. He then walked into the Church of the Holy Sepulchre, grabbed Geoffrey de Bullion's crown from the altar and put it on his head declaring:" I said I was coming, and here I am!".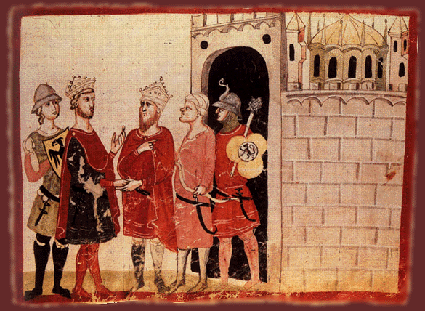 Then he returned immediately to Europe. Legend says that while Frederick was in Jerusalem, the Sultan had ordered the Muslim population to leave town and asked the muezzin not to call people to prayer during the night in order not to disturb the emperor. On the morning after his first night in Jerusalem, Frederick II asked why he had not heard the muezzin.

When they told him, he replied, "I wish you hadn't asked the muezzin to be quiet because the reason I spent the night in Jerusalem was to hear the call to prayer during the night."